Xero Integration
Set up Xero
To connect your FoodByUs account with Xero, navigate to Finance / Integration
Step 1: Authenticate Xero Account
Click "Connect to Xero" button
You will be asked to sign into your Xero account if you are not logged in. Sign in with your Xero email and password. FoodByUs does not store any of your Xero credentials.
Once signed in, you will be asked to authenticate access for FoodByUs to send invoices to your Xero account. Click "Allow Access". You will be redirected to FoodByUs for the next step.
Step 2: Create / Link Contact and Select Account
Xero requires a contact associated with each invoice sent to the Xero system.

If you don't currently have a contact for FoodByUs in Xero, select "Create FoodByUs contact in Xero"
If you already have FoodByUs as a contact in Xero, select the contact under "Select from existing Xero contacts"



All invoices sent automatically from FoodByUs will be associated to one account/cost centre in your Xero. To choose which account you want to associate with FoodByUs invoice, select from the dropdown of accounts. Common account selected are Purchase, Food Cost, or Expense.


Click "Save". Your FoodByUs account is now linked to Xero successfully.
Step 3: Add more venues (Optional)
If you have more than one venue, you will need to repeat the steps in order to connect the accounts for all your venues.
Repeat Step 1. When you are again asked to authenticate access for FoodByUs, click the dropdown menu that appears.
The venue that you have previously authenticated access for will appear grayed out as it has already been connected.
Select your other venue and continue on to Step 2.
Complete Step 2.
Repeat these steps if you have more than 2 venues. Each venue must be connected this way individually.
Using Xero
Automatic sending of FoodByUs invoices
Once your Xero account is connected to FoodByUs, your invoices will automatically sent to our Xero under the select organisation and account in your setting every time a new invoice is created.
View invoices
To view your invoices and check whether an invoice was sent to Xero, navigate to Finance / Invoices & Statement
Send invoice to Xero: To send an invoice that has not been sent to Xero (for example, invoices you have before you connect your FoodByUs account to your Xero account), click on "Send invoice to Xero" next to the invoice you want to send
View invoice: To view the invoice that was sent to Xero, click "View invoice"
Update invoice: If for some reason, your invoice in FoodByUs account doesn't match Xero account, you can update the invoice in Xero by clicking "Update Invoice" button
Account Mapping
Assign a product category in Xero
Once your Xero is set up, all products are assigned to one account or cost centre within Xero by default.
You can change your settings to assign a product category from FoodByUs to your own specific account or cost centre in Xero.
Step 1: Open 'Integration'
Go to your Dashboard. On the menu located on the left-hand side, click Finance then select Integration.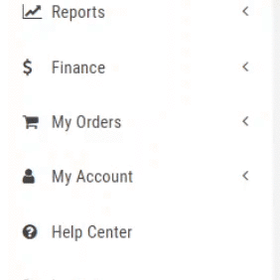 Step 2: Choose default account/cost centre
Under your Xero settings, select a default account/cost centre.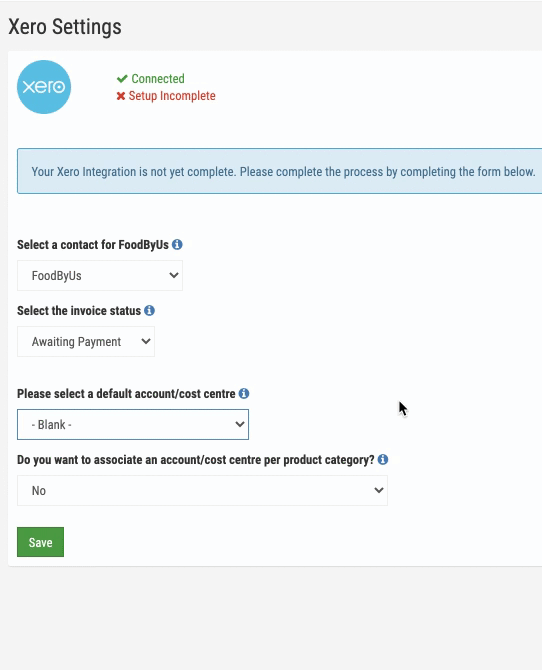 Step 3: Select an account/cost centre
Answer 'Yes' to the question, "Do you want to associate an account/cost centre per product category?". A drop-down menu should appear upon completing this step.
Select your desired account/cost centre for each category offered by FoodByUs.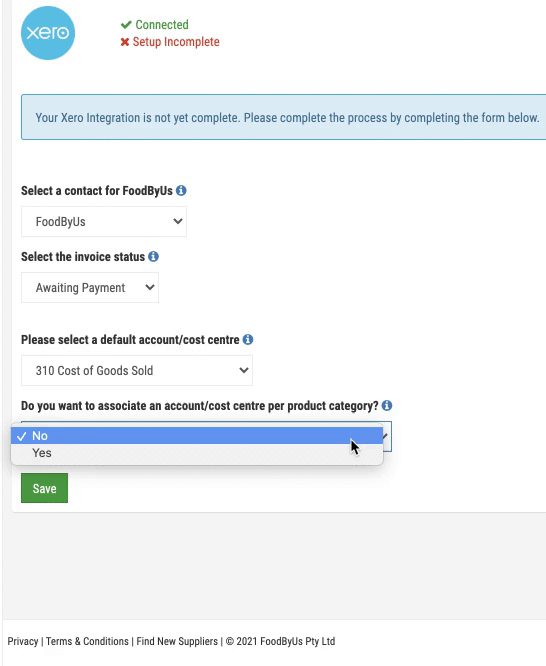 Click "Save" to complete. Each product category from FoodByUs is now assigned to your own specific account or cost centre in Xero.